L'exposition  » SOFT POWER », dont Julie Crenn assure le commissariat réunit les œuvres textiles d'artistes internationaux. Elle résulte d'un désir, celui de mettre en espace la synthèse d'une recherche doctorale menée par la commissaire entre 2007 et 2012 à l'université Bordeaux 3.
« Les textiles créent une rupture autour et à travers les notions d'amateur, d'art et d'artisanat, jetant les mots eux-mêmes dans la crise – s'apparentant à une crise d'identité. » BRYAN-WILSON, Julia. Fray : art+textile politics. The University of Chicago Press, 2017
[ De la déconstruction des masculinités au choc des classes, en passant par l'empowerment des modes de représentation ou le déplacement de pratiques artisanales ancestrales, les artistes injectent à travers les fils et les fibres leurs histoires, leurs expériences et leurs démarches critiques. À travers un corpus généreux d'artistes, une géographie étendue et une pluralité des médiums textiles, trois problématiques à la fois distinctes et complémentaires sont explorées dans l'exposition : l'Histoire et la représentation des corps noirs, l'expérience de l'exil et l'expression plastique d'engagements féministes. ]
                                                                                                Julie Crenn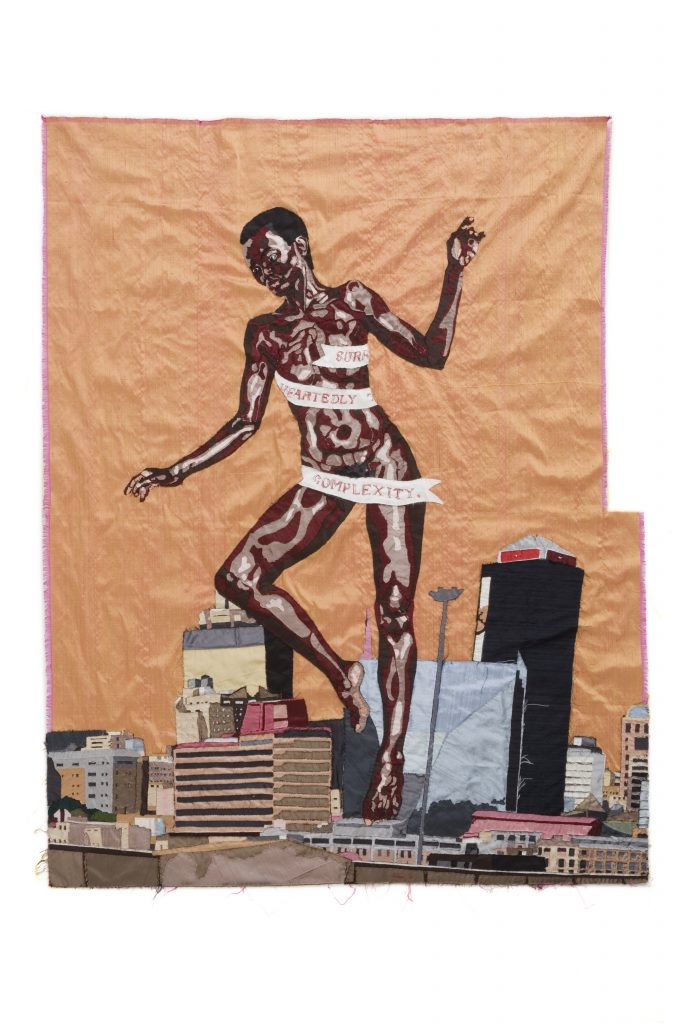 Artistes présentées : Ghada Amer – Raymonde Arcier – Babi Badalov – Rina Banerjee – Raphael Barontini – Louise Bourgeois – Yto Barrada – Cathryn Boch – Shadi Ghadirian – Leo Chiachio y Daniel Gianonne – Aurélie Ferruel & Florentine Guédon – Jérémy Gobé – Hessie – Suzanne Husky – Kimsooja – Kapwani Kiwanga – Senzeni Marasela – Marie-Claire Messouma Manlanbien – Lucien Murat – Hassan Musa – Sara Ouhaddou – Athi Patra Ruga – Yinka Shonibare – Skall – Joana Vasconcelos – Aurélie William Levaux – Billie Zangewa.