Africa Museum
14th December 2020
Artist Talk with Freddy Tsimba, In Koli Jean Bofane, Nadia Yala Kisukidi and Ayoko Mensah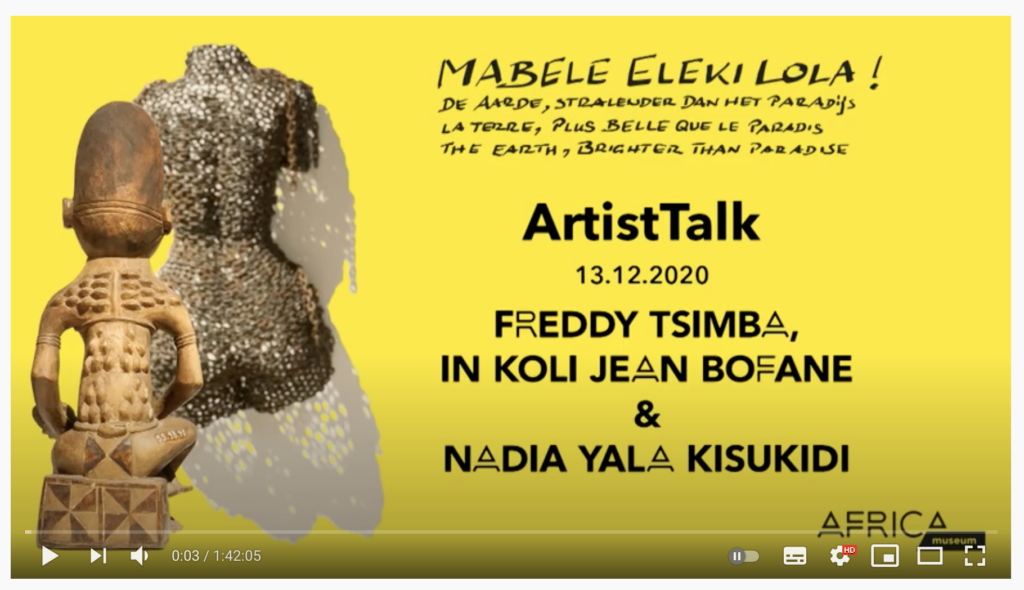 Arts Hebdo Médias
11th May 2020
"Les images politiques d'Hassan Musa "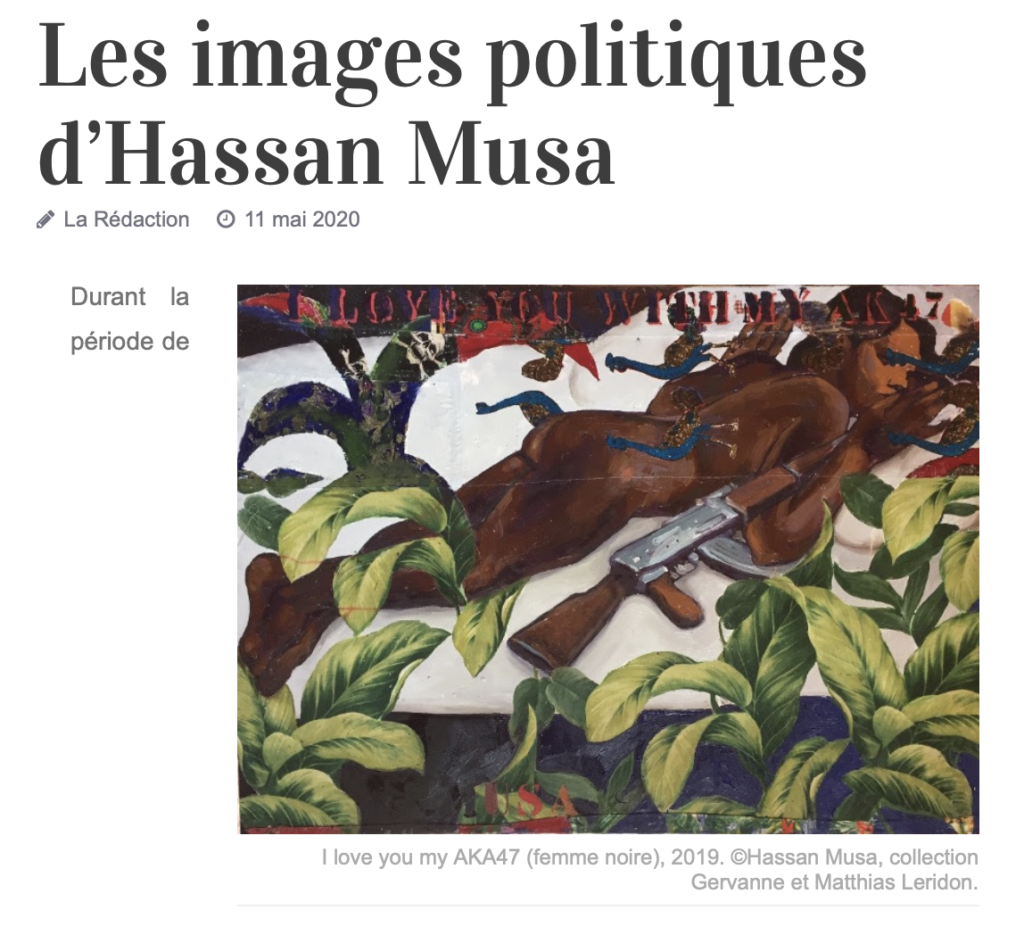 Paris Match – Culture Match
N°3679 – November 2019
"La sculpture en fête à Ouagadougou"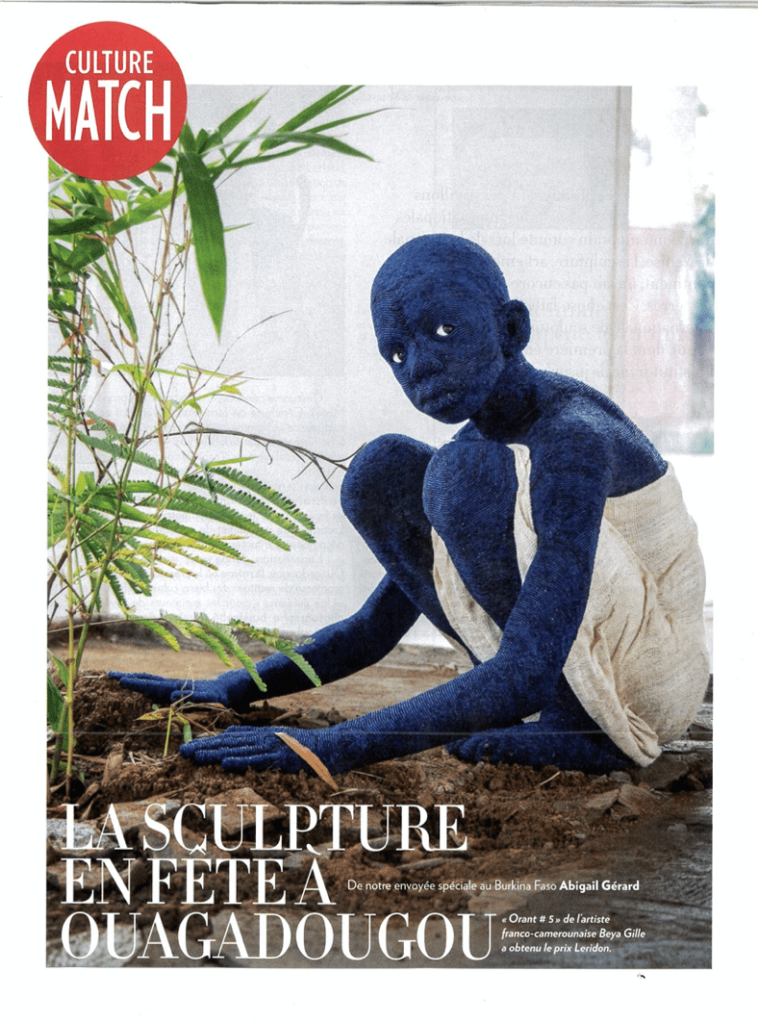 ArtAfrica
March 2019
"Freddy Tsimba celebrates human rights in Paris"
Interview: Brendon Bell-Roberts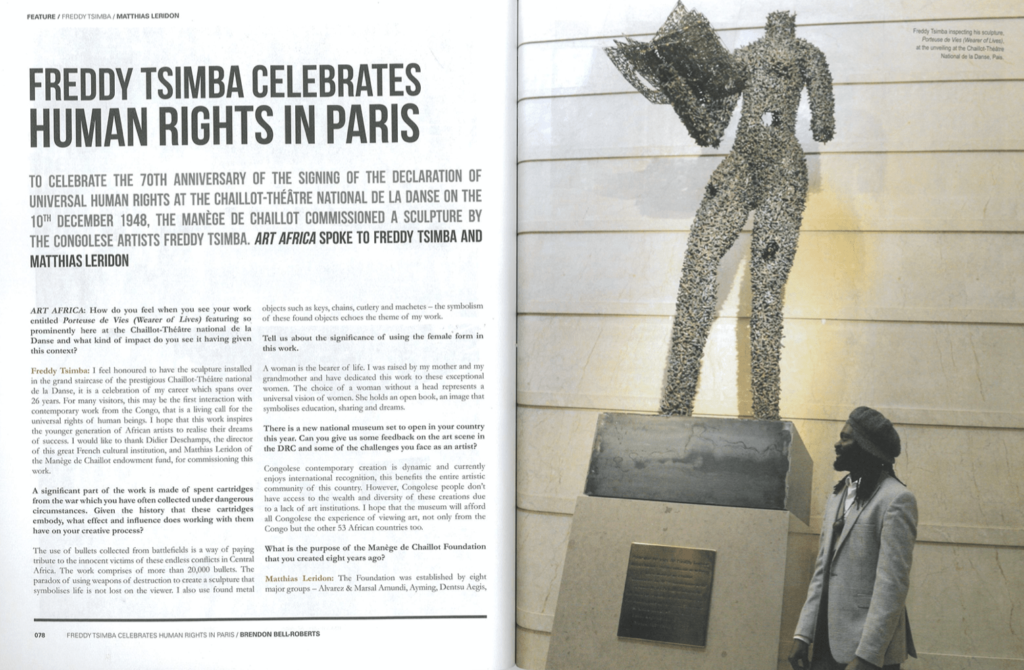 GESTION DE FORTUNE n°300
February 2019
Interview: Delphine Couturier Brochand
« It is no longer possible to miss out on contemporary African art "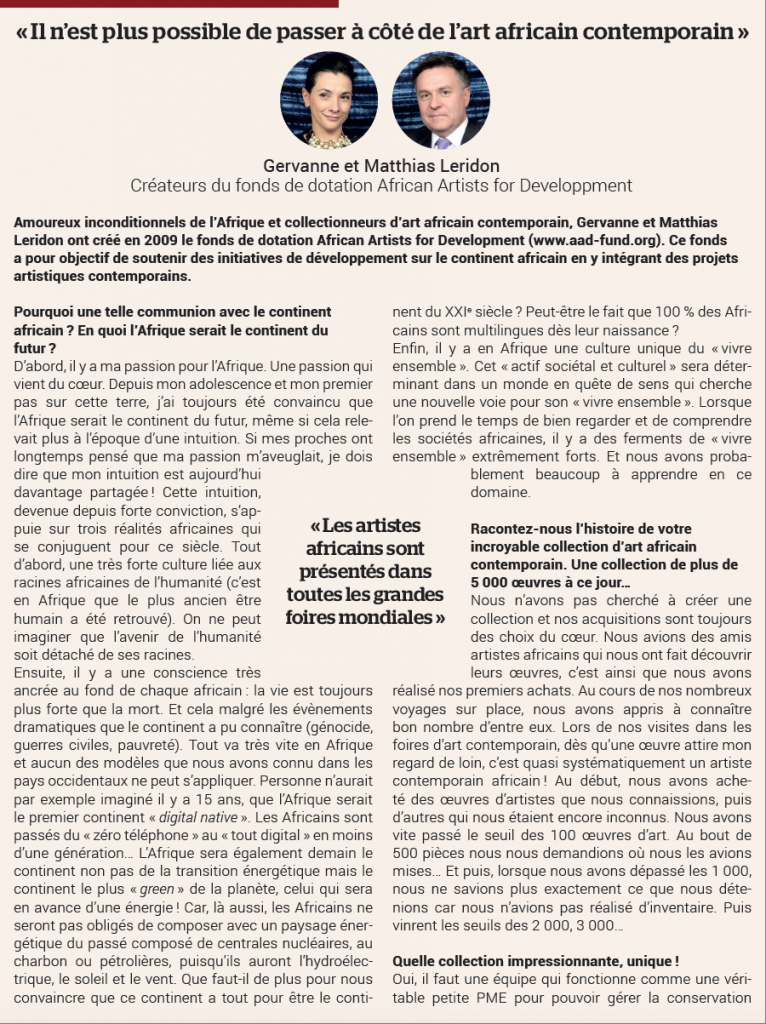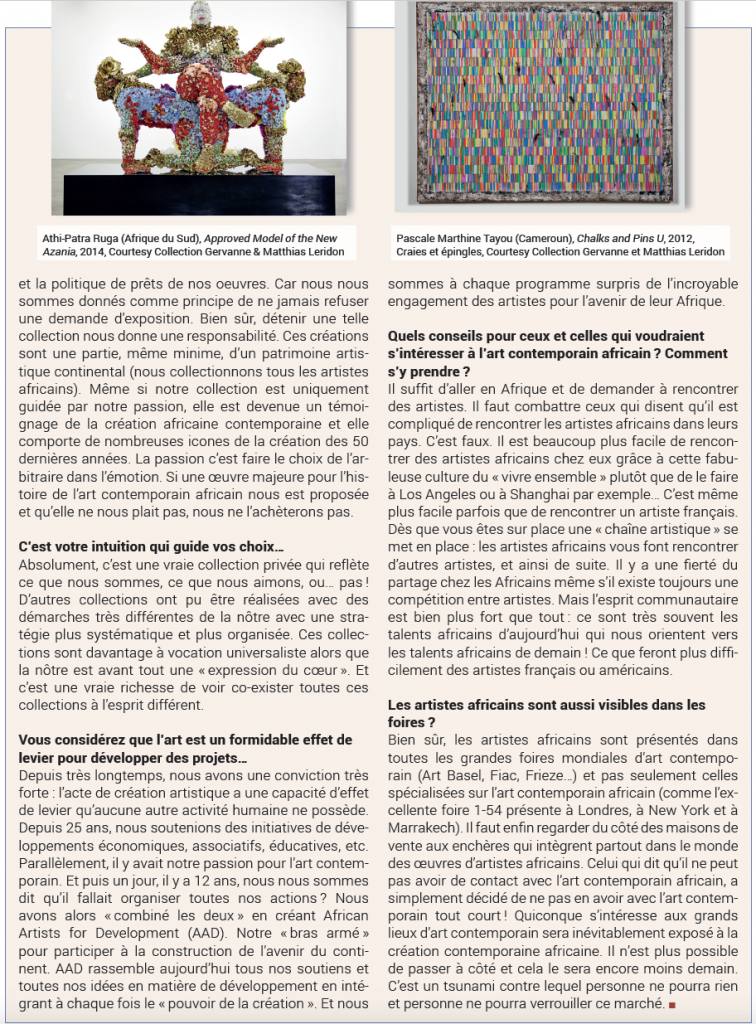 PARIS MATCH
December 2018
"Engaged collectors", Interview by Anaël Pigeat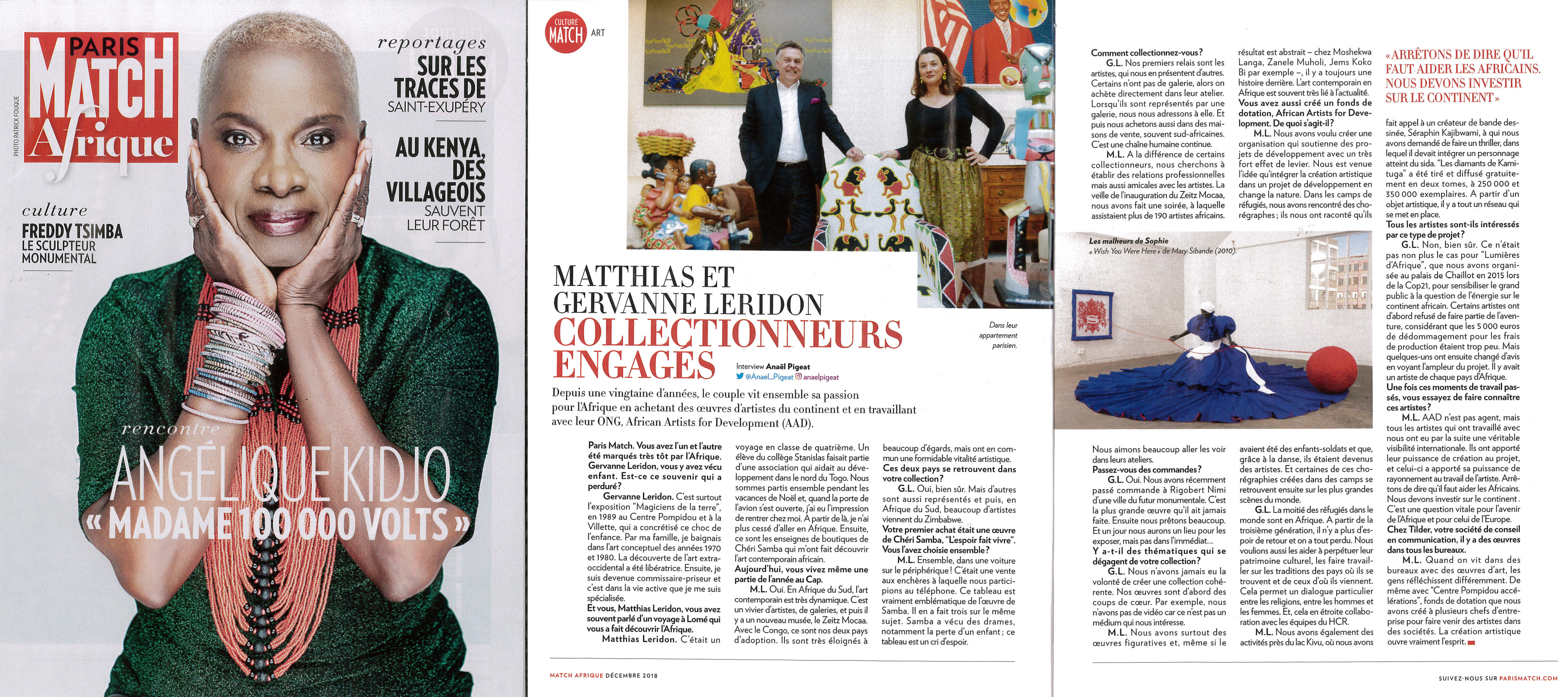 RADIO OKAPI
November 2018
Paris: "Porteuse de vies", a Congolese sculpture soon to be unveiled at the Théâtre National de Chaillot.
From Paris, Jean Marc Matwaki spoke on the phone with Congolese artist Freddy Tsimba and Matthias Leridon, member of the Manège de Chaillot Endowment Fund.
BEAUX ARTS MAGAZINE
June 2018
in "La Tribune de Matthias Leridon"
Preserving emotion in a digital world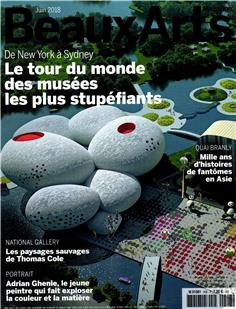 AFRICA TELLING A WORLD it/engl
July 2018
"Interviniste con I colezionisti Gervanne e Matthias Leridon, Jean Pigozzi, Thierry Barbier-Mueller / Interview with the collectors Gervanne and Matthias Leridon, Jean Pigozzi, Thierry Barbier-Mueller"
Interview: Nakhana Diakite Prats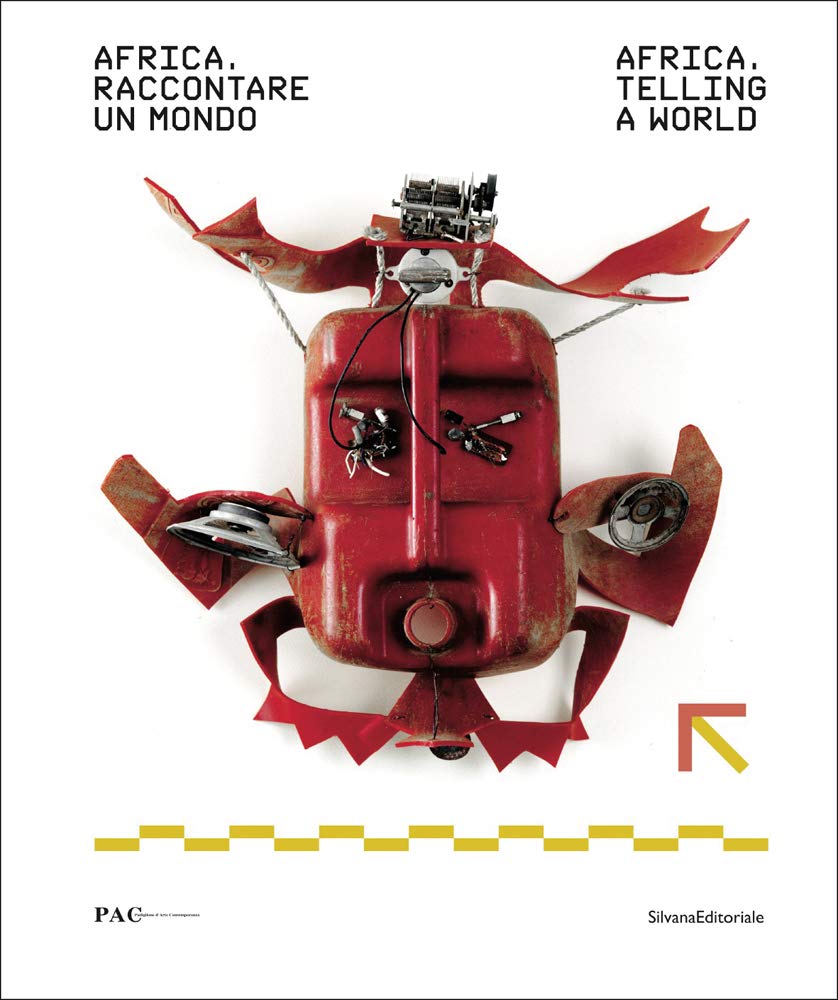 FRANCE TV INFO
April 2018
Interview with Olivier de Lagarde in Sous les pavés 2018's programme.
Matthias Leridon : « Mon pavé 2018 c'est le développement de la création artistique ». My cobblestone 2018 is the development of the artistic creation.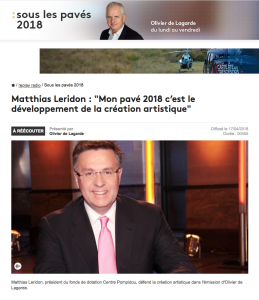 AIR FRANCE MAGAZINE
April 2018
Photo report of the loan of Predator at Salon Air France Première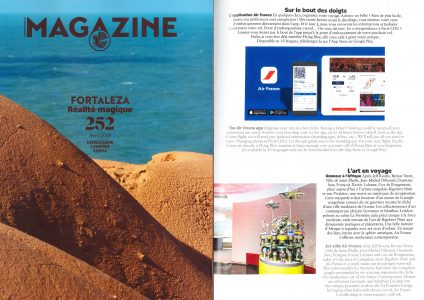 LES ECHOS
March 2018
Beaubourg is launching an endowment fund with ten big patrons.
« The economic world needs the meaning of artistic creation. This fund is also a tribute to the specific strength of the Pompidou Center in the world, through its interdisciplinarity, its openness, its desire to renew itself ".

RFI
February 2018
"Gervanne et Matthias Leridon, collectionneurs d'art contemporain africain"
Interview with Isabelle Chenu
BEAUX ARTS MAGAZINE
February 2018
MARCHE / LES ACTEURS
"L'oeil du collectionneur"
Founder of Tilder Communication Agency and Co-Chair of African Artists for Development endowment Fund.
How do you collect as a couple?
The first principle is to buy works which we want to live with. Fortunately, we often share the same enthusiasm!
The second is to decide together on our acquisitions. The third is to privilege the meeting with the artist, in his art studio, before any purchase. Our collection is first and foremost a story of passion and friendship, more than reason.
Since when do you buy Contemporary African art?
We are both fascinated by this continent since our childhood. The vitality, diversity, talent and commitment of African artists have amazed us for decades. The exhibition "Magiciens de la terre"(Magicians of the Earth) by Jean-Hubert Martin in 1989 at the Pompidou Center was for us an aesthetic and emotional shock.
It was in 2000 that we had our first heart stroke with Chéri Samba's painting "L'espoir fait vivre" (Hope Made Live), the first museum-quality art work to join what has become our collection
How do you see the future of your collection?
The number of works we own, more than 5000, gives us a triple responsibility. That of creating a qualitative documentary resources in which each is inventoried and often accompanied by a video capsule of the artist. That of sharing these pieces with the public, through loans for exhibitions. Finally, that of opening a permanent place to make the collection dialogue with the contemporary creation of other continents. We would like to install this platform in Africa in three to five years. Probably Cape Town, which becomes a hub of presentation and exchange with contemporary African creation since the opening last September of the Zeitz Museum of Contemporary Art Africa.
AIR FRANCE MADAME
N°189 – February 2018
Pages 68 and 69
Interview written in French
On the occasion of the loan of the work Predator by Rigobert NIMI, AIR FRANCE MADAME dedicate two pages to Gervanne Leridon, whom presents every actions made on the African continent: AAD (African Artists for development) l'ONG which she chairs and Cape and Cape, the African tea house she created. She also tells us about the Leridon collection, Rigobert Nimi's work and African Art more broadly as a vector for a better future.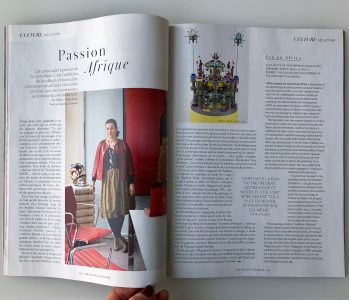 FRANCE TV INFO
January 29th, 2018
« Afrique, artistes d'hier et d'aujourd'hui » by Laurent Filippi
Publication of two artworks from the collection loan to the exhibition "Afrique, artistes d'hier et d'aujourd'hui " at Clément foundation, Martinique.
September 2017
"Ambition creates Duty"
Brendon Bell-Roberts talks to Paris-based collectors and art patrons Gervanne and Matthias Leridon about their support of the Zeitz MOCAA museum of contemporary art Africa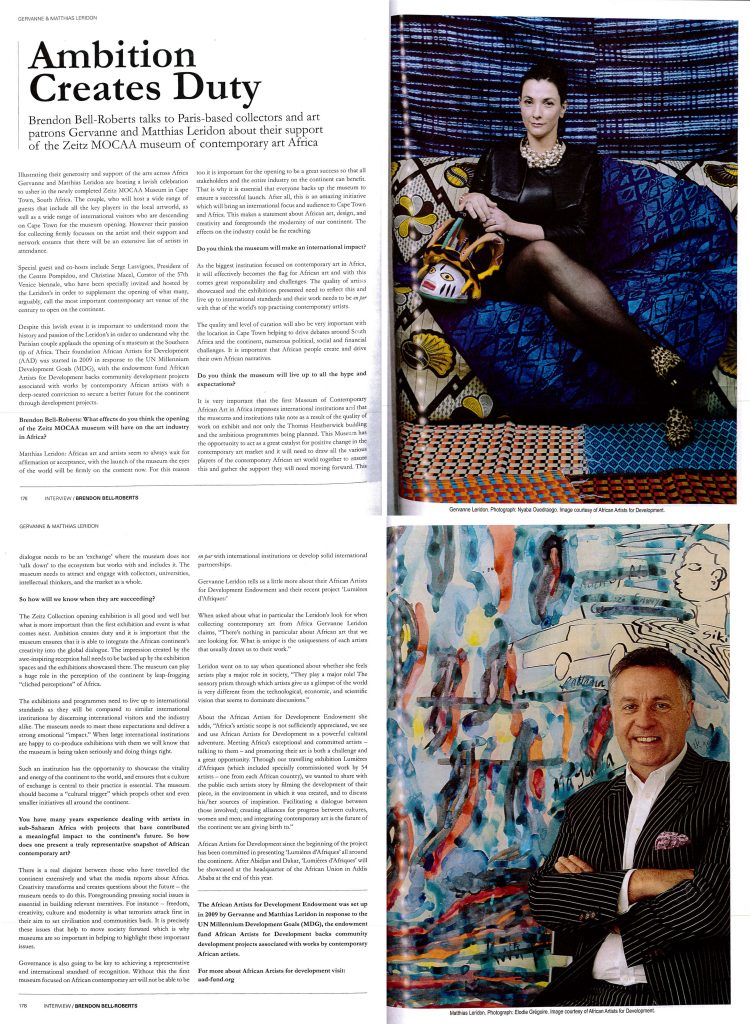 LES ECHOS
April 2017
Interview written in French
"Without art, without culture, we survive but it's not life"" Gervanne Leridon
TRIBUNE DE GENEVE
April 2017
« African artists shows us the way»
Interview with Alain Jourdan
« If he believes in the huge potential of Africa, it is because he has detected in the work of contemporary African artists a depth that questions our humanity." A statement shared by art galleries that constantly review on the rise the number of African painters and sculptors, Matthias Leridon is himself a big collector."
JEUNE AFRIQUE

"Art : portraits de collectionneurs
CULTURE.GOUV.FR
September 2016
"Les collections d'art, valeurs montantes de l'entreprise"
LE FIGARO
November 2015
Interview written in French
Matthias Leridon: "Africa? A cauldron of creative energy!"

LE MONDE
"The Leridons, Afro-optimists and great collectors"
Interview by Roxana Azimi, written in French
September 2015
JEUNE AFRIQUE
"Art Collectors: Gervanne and Matthias Leridon, the art of entrepreneurship".
November 2012
"There is an exciting aspect to clearing area that has not yet been spotted by all the sensors of the art world." Gervanne Leridon