Gervanne and Matthias Leridon are pleased to present PREDATOR, a work by Rigobert NIMI from 24 January to 27 April 2018 in the Air France Salon Première.
Gervanne and Matthias Leridon meet Rigobert Nimi in 2014 during a trip to Kinshasa and quickly fall under the spell of this artist whose energy and imagination are immense and ideas without limits or borders.
Predator is the first work of the artist who joined the Gervanne Collection and Matthias Leridon in 2014. A year later, Loup-Garou joined the collection and in 2016, he commissioned the artist Galaxie, city of the future.  Monumental, the artist met more than one to make this piece that measures 30 m2 and consists of more than ten thousand objects recovered and assembled.
Real puzzles, the multicolored works of Rigobert Nimi consists of objects he gleans daily. Galaxie, city of the future is born in front of Rigobert and will travel to new horizons to reveal itself again.
Air France Premier Salon
ROISSY, Charles de Gaulle
Airport Terminal 2E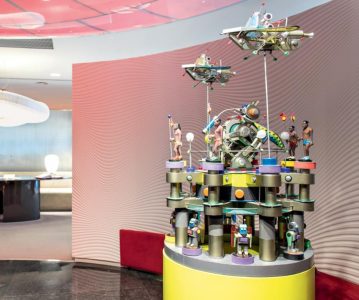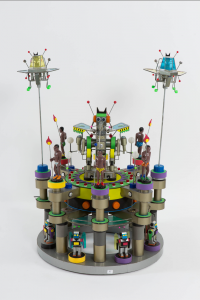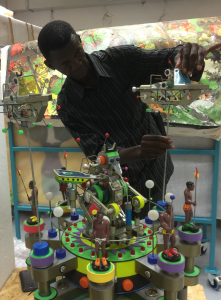 "All my materials that I select are cut, processed and shaped by myself with only 5 tools: a pair of scissors, a knife I made, a universal pliers, a needle nose pliers and a ruler. Movement, sound and light are totally part of the work; the mechanism is simple and robust because everything must work perfectly, like a clock. I work every day and many ideas come to me by working. Since 2000 my whole work concerns space and robotics but I have many projects that will surprise you."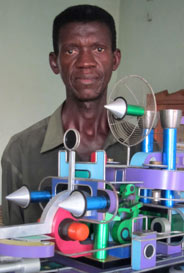 Born in 1965 in Tshiela (Bas-Congo), Rigobert Nimi lives and works in Kinshasa, Democratic Republic of Congo.
5 years of applied mechanics studies in a professional institute do not allow him, however, in Kinshasa, to find a job honorably paid. But he finds its way by making "toys", unique pieces very sophisticated, incredibly faithful models of planes, trains, motorcycles or racing cars. From the age of 15 he is nicknamed "the Engineer".