From May 4th to September 21th, the Vestfossen Kunstlaboratorium, Norway, present "Kubatana", an exhibition curated by Kristin Hjellegjerde.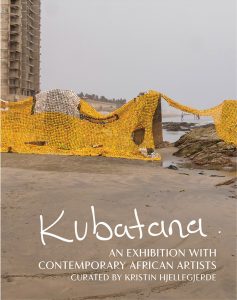 Kubatana is a term in shona language in the Zimbabwe traduced by the curator as "togetherness". This word seems to Kristin Hjellegjerde during a trip in Africa where she met artists and note "They work together, help each other, and build and share studios, mentoring their peers and inspiring their children and the next generation of young artists."
The curator invites the public to discover this fraternity thought the visions of thirty for artistes from nineteen Africans country. "Kubatana" proposed a rich selection of productions with different mediums and styles.
For this exposition, the Leridon collection is pleased to lend "Entre nous", a painting by Eddy Kamuanga a Congoleses artist produced in 2015.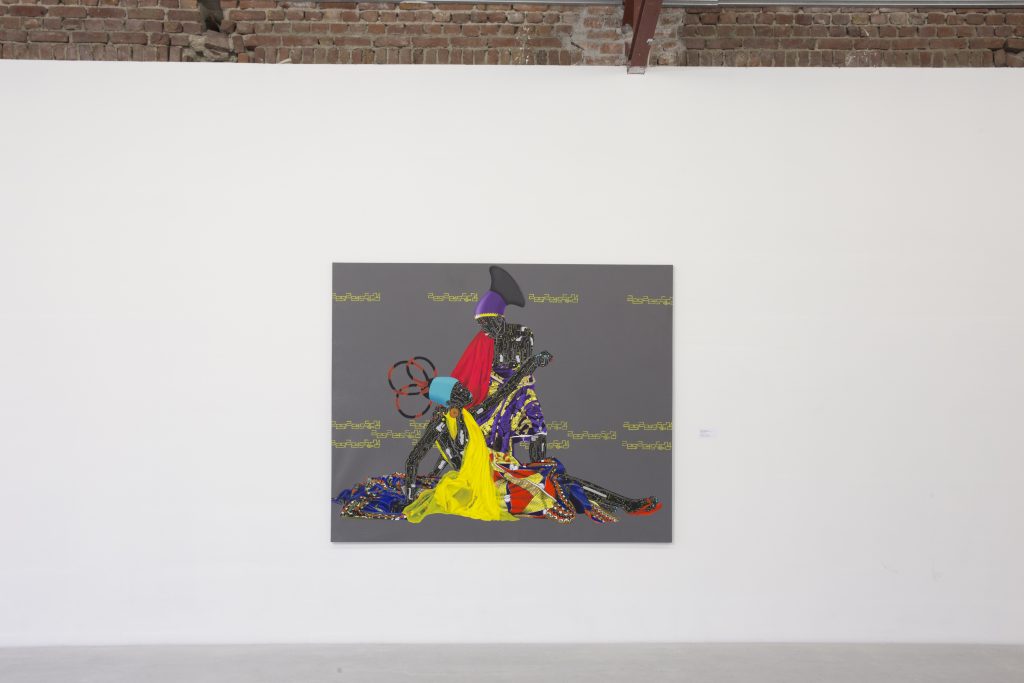 Gervanne and Matthias Leridon met Eddy Kamuanga around five years during a trip to Kinshasa (Democratic Republic of Congo) when he was 22 and realised his first exhibition. Without artifices, the artist explained his research about his original country and the history of the Mangbetu people, a population from Sudan south living in the north of the Congo.
The first thing which marked them was the mix between the modernity of the production and the artist's search who tried to found his origins thanks to his meeting with Mangbetu people.
The integrated circuit drawing in the dark figures are like rhizomes, some roots growing. The artist mixed traditions (symbolic objects, rituals of Mangbetu people) and pop culture forms (fluorescent fabric) using actual numeric imagery. He represents women with hidden faces, often hunched, in currents scenes lived by Mangbetus peoples like the shame and loneliness, to enable to remember at the young African generation prey to his identity, the importance of his traditional history. He peis tribute to the woman as vector of the transmission of traditions, in particular his mother who supported alone her entire family with her sandal business.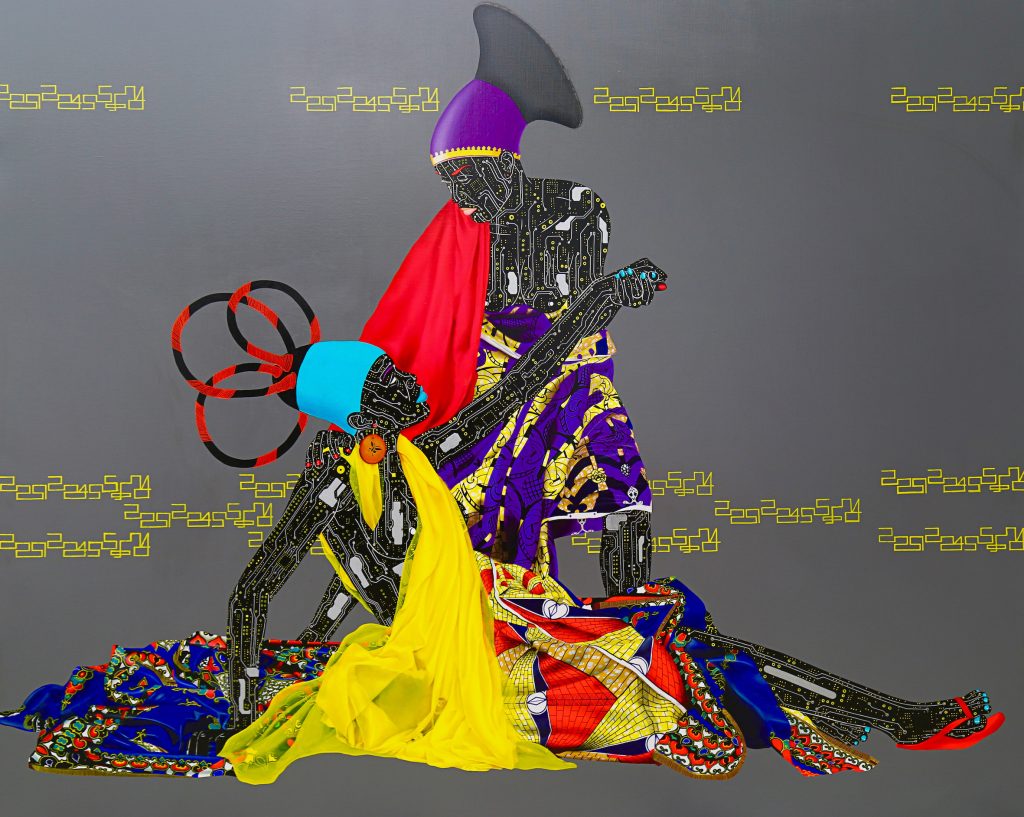 Artists exposed:
Dawit Abebe (Ethiopia), Aboudia (Côte d'Ivoire), Igshaan Adams (South Africa), Leonce Raphael Agbodjelou (Republic of Benin), Amina Agueznay (Morocco), Lhola Amira (South Africa), Joël Andrianomearisoa (Madagascar), Younes Baba-Ali (Morocco), Yassine Balbzioui (Morocco), Takunda Regis Billiat (Zimbabwe), Armand Boua (Côte d'Ivoire), Lizette Chirrime (Mozambique), Gerald Chukwuma (Nigeria), Serge Attulowei Clottey (Ghana), Ibrahim El-Salahi (Sudan), Gabrielle Goliath (South Africa), Eddy Kamuanga Ilunga (Democratic Republic of Congo), Cyrus Kabiru (Kenya), Abdoulaye Konaté (Mali), Gonçalo Mabunda (Mozambique), Ibrahim Mahama (Ghana), Troy Makaza (Zimbabwe), Zanele Muholi (South Africa), Wycliffe Mundopa (Zimbabwe), Niyi Olagunju (Nigeria), Sadikou Oukpedjo (Togo), Cinga Samson (South Africa), Amadou Sanogo (Mali), Ephrem Solomon (Ethiopia), Sanlé Sory (Burkina Faso), Khadidiatiou Sow (Senegal), Pamela Phatsimo Sunstrum (Botswana), Moffat Takadiwa (Zimbabwe), Billie Zangewa (Malawi).