From September 22th 2018 to January 27th 2019, the Museum Joanneum in Graz, Austria has presented the exhibition « Congo Stars ». From March 9th 2019 to June 30th 2019, the exhibition will be hosted by the KUNSTHALLE TÜBINGEN.
In this framework, a diptych created by Mega Mingiedi is loaned by Gervanne and Matthias Collection.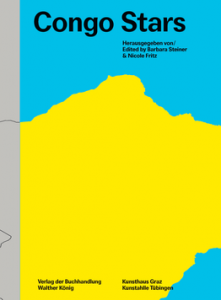 "Congo Stars" exhibition showcases contemporary Congolese artists most representative of the national landscape from the 1960s. Split into six themes (exploitation, mythology/spirituality, bar, public stars/heroes, market/streets/urban space), the exhibition takes as a guide the chronology of important events in the history of the DRC (Democratic Republic of Congo).
Mega Mingiedi is a very committed artist in his society. He is an active member of the collective Eza-POSSIBLES Kinshasa, a group of artists whose objective is to make contemporary art closer to the reality and daily life of Kinshasa.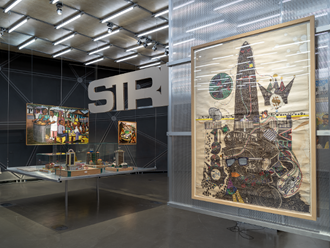 His work focuses on urban space and the place of citizens in the city. It is therefore natural that his works integrate the chapter "STREET" of the exhibition.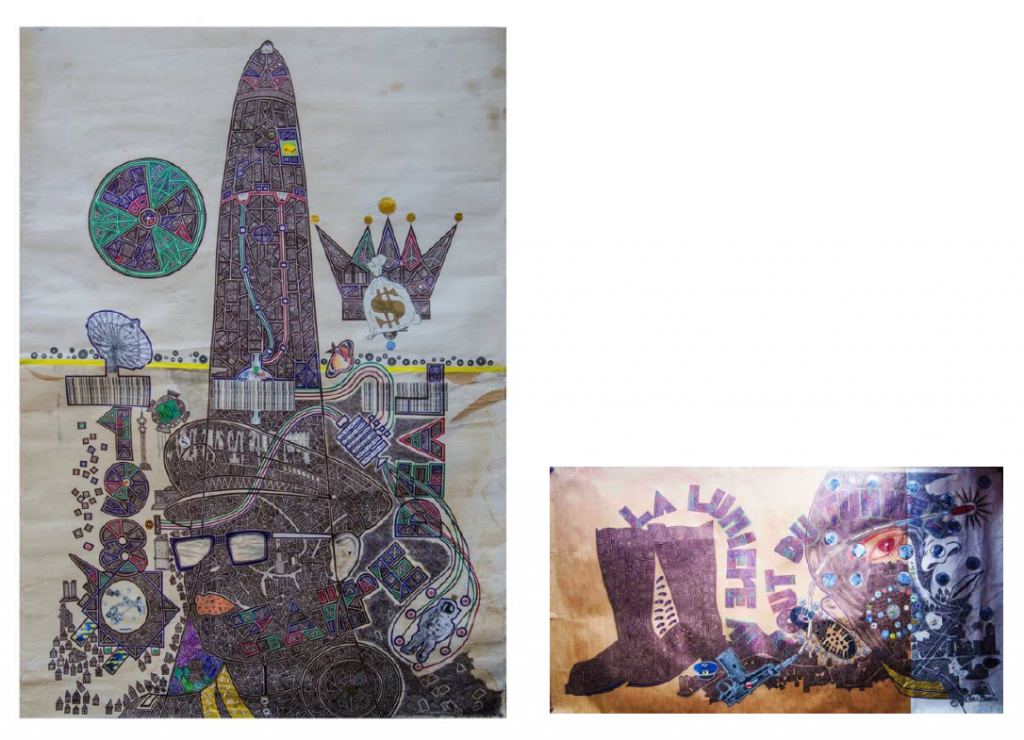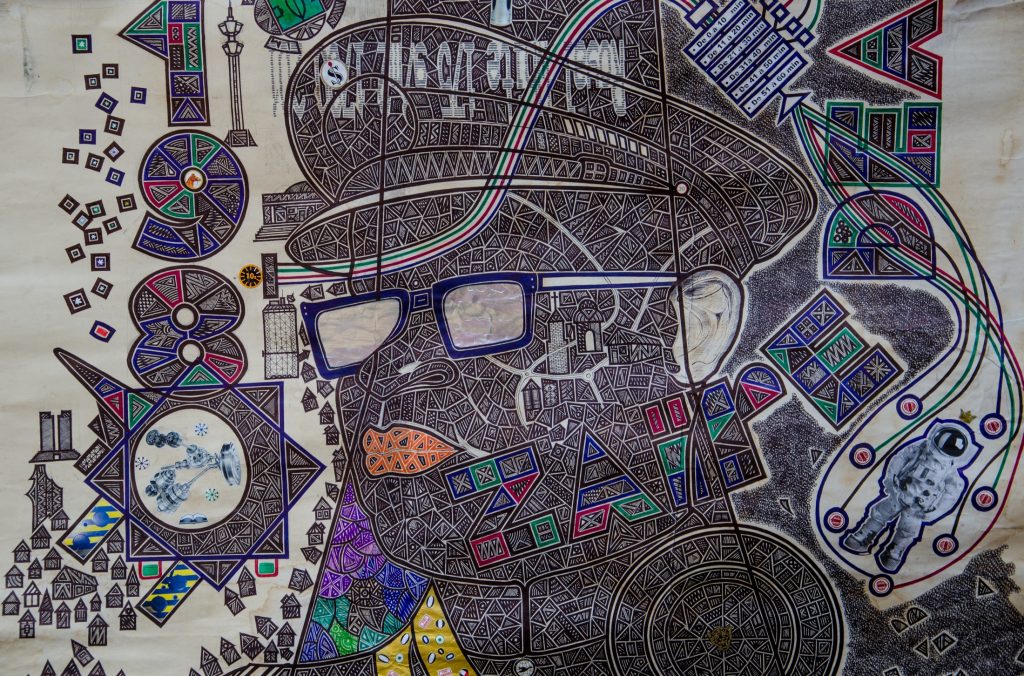 Mobutu (2018) is a diptych he describes as focusing on the reign of dictator Mobutu Sese Seko (1965-1997). According to Mingiedi, this is the only political figure who would have had the opportunity to change the situation for the Congo. Unfortunately, his own pharaonic and ill project adapted to the needs of the country, turned against him. For this reason, according to the artist, he can be considered as a figure who has greatly contributed to the crisis that is now reducing the DRC to chaos and ruin.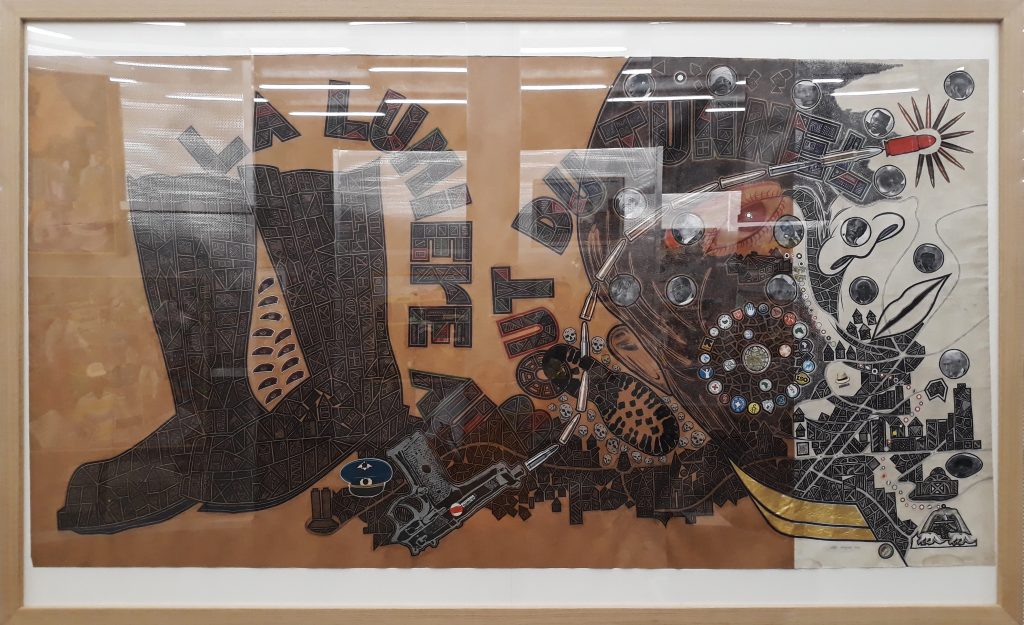 His work "Kabila mzee" (2018) deals with the former Congolese head of state, Laurent-Désiré Kabila. "Mzee" literally the Old Man, the Sage, is considered as a "national hero" in Congo. This section of the diptych is about the mystery of the end of his reign. This process that led to it begins well ahead with the legacy left by Europeans but also African predecessors. The artist thinks that it is by getting interested in this inheritance that one will be able to reach the truth and overcome the confusion of the contradictory versions concerning the assassination of Kabila father.
All artists presented in this exhibition:
Alfi Alfa (Alafu Bulongo), Apollo, Prince Badra, Sammy Baloji, David N. Bernatchez, Kiripi, Gilbert Banza Nkulu, Chéri Benga (Hyppolite Benga Nzau), Junior Bilaka, Bodo (Camille-Pierre Pambu Bodo), Claude Bosana, Dominique Bwalya Mwando, Chéri Cherin, (Joseph Kinkonda), Trésor Cherin, (Nzeza Lumbu), Revital Cohen et Tuur Van Balen, Revital Cohen, Edisak, Ekunde (Bosoku), Sam Ilus (Mbombe Ilunga), Jean Kamba, Eddy Kamuanga Ilunga, Kasongo, Jean Mukendi Katambayi, Kayembe F, Aundu Kiala, Bodys Isek Kingelez, Ange Kumbi, Hilaire Balu Kuyangiko, Lady Kambulu, Gosette Lubondo, Lukany, Ernest Lungieki, George Makaya Lusavuvu, Tinda Lwimba, Mah Magoah, Développement Mani, Maurice Mbikayi, Mbuëcky Jumeaux (de Mbvecky Frères), Micha JP Mika (Jean Paul Nsimba), Mega Mingiedi Tunga, Moke (Monsengo Kejwamfi),Moke-Fils (Jean Marie Mosengo Odia), Mson Becha Shérif Décor, Musondo, Vitshois Mwilambwe Bondo, Nkaz Mav, Vincent Nkulu, Chéri Samba (Samba wa Mbimba N'Zingo Nuni Masi Ndo Mbasi), SAPINart (Makengele Mamungwa), Monsengo Shula , Sim Simaro (Nsingi Simon), Soku Ldj, Maître SYMS (Bayangu Mayala), Marciano Tajho, Tambwe, Tshibumba Kanda Matulu, Pathy Tshindele Kapinga, Turbo..